Nowadays in some places on the earth there are cruelties done to the oppressed people, for example the people of Palestine or Lebanon or Bahrain or Libya or Yemen etc. some of these nations are not Shia, the question is why we should help them? Does Islam have any order in this regard?
When we refer to the holy Quran we see that in some verses Allah talked about the cruelty and oppression.
In chapter Nisa verse 75 we read:
وَمَا لَكُمْ لاَ تُقَاتِلُونَ فِی سَبِیلِ اللّهِ وَالْمُسْتَضْعَفِینَ مِنَ الرِّجَالِ وَالنِّسَاء وَالْوِلْدَانِ الَّذِینَ یَقُولُونَ رَبَّنَا أَخْرِجْنَا مِنْ هَذِهِ الْقَرْیَةِ الظَّالِمِ أَهْلُهَا وَاجْعَل لَّنَا مِن لَّدُنكَ وَلِیًّا وَاجْعَل لَّنَا مِن لَّدُنكَ نَصِیرًا
"So why is it, that you do not fight in the way of Allah, and for the abased among men, women, and children who say: 'our lord, bring us out from this village whose people are oppressors, and give to us a guardian from you, and give to us a helper from you."...
Tags: Quran ، holy Quran ، islamic life ، Better life ، islamic web ، islamic TV ،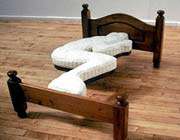 Note: Though healthy in general, left-side sleeping may not be suitable in some cases, like for those who have had heart troubles in the past.
People the world over love sleep dearly. There is no denying that it is one of life's sweetest pleasures.
It's also well known that sleep is important for one's overall health and well-being. You cannot expect to function normally and perform to the best of your potential without a good night's sleep.
Yes, you may be able to get by for a while, but you will likely be mentally disoriented and low on energy, until you are able to take it no more.
Lack of sleep also causes a horde of diseases and possibly fatal conditions. It is one of the biggest factors associated with heart disease.
Along with maintaining a proper sleep pattern, you can give your health a boost by sleeping in a certain position.
Research has shown that sleeping on the left side, as your grandmother may have often told you, is not merely an old wives' tale but has actual health benefits...
Tags: Muslim Family ، Better life ، islamic ، Religion ، sleep ، Islamic medicine ،

She was a young woman who enjoyed such a lofty position of spirituality which was equal to saints, prophets and the like and she was called the mistress of all women by divine messengers. Besides this spiritual position, each outstanding characteristic and each important role in the personal life of this great lady is a lesson.
The spiritual positions of Fatima Zahra (God's greetings be upon her) are among the best spiritual positions which belong only to a few individuals. She was infallible. Infallibility is particular to a few individuals who are chosen by God and that great Hazrat - Fatima Zahra (God's greetings be upon her) - is one of these few individuals. We should consider the fact that that Muslim woman and that mujahide in the way of God lived only to the age of 20. Of course, different narrations say that her age was from 18 to 25 years at the time of her martyrdom...
Tags: Fatima Al Zahra ، shia muslim ، imam khamenei ، woman in islam ، Islamic woman ،

Tags: Life of the world ، Photography ، Photo ، Image ، Quran ، islamic life ،

Tags: Quran ، image ، Eat and deink ، Islamic life ، better life ، Muslim ،

Faith calls upon us to bring out the best in ourselves and in others. Treating other people with integrity and respect is a sign of a believer.
It is not permissible for a Muslim to spread rumors, gossip, or engage in backbiting one another.
Teachings of the Quran
Islam teaches the believers to validate their sources, and not engage in conjecture. Repeatedly in the Quran, Muslims are warned about the sins of the tongue.
"Do not concern yourself with things about which you have no knowledge. Verily, your hearing, sight, and heart -- all of them will be called to account"[1].
Tags: Quran ، shia ، islam ، tongue ، life ، Islamic life ، Muslim ،


Commentary on Nudbeh Supplication Audio Lectures 1-10
Commentary on Nudbeh Supplication Audio Lectures 11-20
Commentary on Nudbeh Supplication Audio Lectures 21-30
Praying Allah to reach where?: Audio Lecture
Asrarol-Quran (Mysteries of Quran): Audio Lectures
Spiritualizing Life - Practical: Audio Lectures
Spiritualizing Life - Theory: Audio Lectures
Reality of Fasting: Audio Lectures
Monajaat Shabaanieh commentary: Lecture
Glorifying Allah Practical & Theoretical Tasbih
Commentary of Dua Sahar Lecture 1
Preparing for Ramadhan (Commentary of hadith of fasting)
Special Lectures on Laylatul-Ghadr:Session 1 - 14
Hadith of Nafs of Imam Ali (a.s)
Tafseer Ziarat Ahura-Heaviness of Ashura to Jebrail (Audio Lecture)
Leghaollah (Seeing God):Senses & Perception (Lecture 1) ***NEW***"
Lectures on Reality of Death ***NEW***"
Tags: speches ، islamic speeches ، shia muslim ، Audio ، islam ، Love ، Religion ،

Tags: iran ، Hot photo ، tree ، Palm tree ، Palm photos ، image ، Photography ،

Lady Fatimah was the only daughter of the Holy Prophet and Lady Khadijah. The circumstances of her birth are described by Lady Khadijah as follows: At the time of the birth of Lady Fatimah, I sent for my neighboring Qurayshite women to assist me. They flatly refused, saying that I had betrayed them by supporting Muhammad. I was perturbed for a while, when, to my great surprise, I sighted four strange tall women with halos around them, approaching me. Finding me dismayed, one of them addressed methus, "O Khadijah! I am Sarah, the mother of Ishaq, and the other three are, Mary the mother of Christ, Asiyah the daughter of Muzahim, and Umm Kulthum, the sister of Moses. We have all been commanded by God to put our nursing knowledge at your disposal."[1] Lady Fatimah inherited the genius and wisdom, the determination and will-power, the piety and sanctity, the generosity and benevolence, the devotion and worship of Allah, the self-sacrifice and hospitality, the forbearance and patience, and the knowledge and nobility of disposition of her illustrious father, both in words and deeds. "I often witnessed my mother," says Imam Husayn, "absorbed in prayer from dusk to dawn."[2] Her generosity and compassion for the poor was such that no destitute or beggar ever returned from her door unattended...
Tags: Fatima al zahra ، shia muslim ، woman ، Hot photo ، islamic ، love ،

One of the many questions that have been asked is why does Islam make hijab mandatory for women? Islam has introduced hijab as part of the decency and modesty in interaction between members of the opposite sex. Verse 59 of chapter 33 of the holy Quran gives a very good reason; it says...
Tags: muslim ، Hijab in islam ، woman in islam ، shia ، love ، Better life ،

A small procession of devoted ones, sobbing with grief, with their faces covered, is quietly moving towards an unknown location to bury someone special, someone they loved. It was a dark night of the third of Jamadi al-Thani, 11th Hijrah in the city of Madina, the city of Prophet Muhammad (saw) just few days after passing away of Prophet Muhammad (saw).[1]
They were Kids with their father and his close friends walking quietly with patience and happy with their Lord over what they went through during last few days. But they were sobbing suppressing their voices, tears were flowing but without a sound, concealing their grief, so that no one can hear them in the dark quiet night they wanted no one in Madina to know about what they were going through...
Tags: Fatima al zahra ، woman ، girls ، islamic ، shia muslim ، islam ،