Today, it is quite disheartening to see that some parents rejoice when the newborn child is a male and show their dissatisfaction when the child is a female. But, this should not be the attitude. Islam does not condone this type of behavior, as such was the manner of the parents in the time of ignorance.
Children are gifts of Allah and there is no difference between male or female child but Islam said they should be righteous child Holy Prophet (pbuh) said:
الولد الصالح ریحانه من ریاحین الجنه
"A righteous child is a flower from flowers of heaven." (1)
He also said:
من سعاده الرجل الولد الصالحه
"Of the signs of prosperity, the righteous child is one." (2)
Therefore, the parents are responsible for their children and they should be careful how they treat and rear them.
Footnote:
1) The Book Wafi, Part 12, pages 196-197.
2) The Book Wafi, Part 12, pages 196-197.
http://www.welayatnet.com/en
Tags: Children ، Allah ، flower ، kids ، islam ، Quran ، Muslim Family ،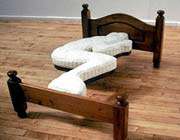 Note: Though healthy in general, left-side sleeping may not be suitable in some cases, like for those who have had heart troubles in the past.
People the world over love sleep dearly. There is no denying that it is one of life's sweetest pleasures.
It's also well known that sleep is important for one's overall health and well-being. You cannot expect to function normally and perform to the best of your potential without a good night's sleep.
Yes, you may be able to get by for a while, but you will likely be mentally disoriented and low on energy, until you are able to take it no more.
Lack of sleep also causes a horde of diseases and possibly fatal conditions. It is one of the biggest factors associated with heart disease.
Along with maintaining a proper sleep pattern, you can give your health a boost by sleeping in a certain position.
Research has shown that sleeping on the left side, as your grandmother may have often told you, is not merely an old wives' tale but has actual health benefits...
Tags: Muslim Family ، Better life ، islamic ، Religion ، sleep ، Islamic medicine ،

One of the many questions that have been asked is why does Islam make hijab mandatory for women? Islam has introduced hijab as part of the decency and modesty in interaction between members of the opposite sex. Verse 59 of chapter 33 of the holy Quran gives a very good reason; it says...
Tags: muslim ، Hijab in islam ، woman in islam ، shia ، love ، Better life ،