My dear ones, you should know that today, the world needs the Holy Quran whether it accepts and acknowledges it or not. Today, the world suffers from a void of identity, ideology and faith. A faithless individual is like an empty fruit. This is the reason why you see that the rate of murder and crime is increasing in western countries on a daily basis. This is one of the reasons. When you see that the rate of suicide is increasing, this is one of the reasons.
Humanity no longer has any food to satiate the minds, hearts and souls of individuals. Of course, they fabricate certain things, but this is not accepted by the hearts of peoples. However, the Holy Quran can do so. If only one drop of the Holy Quran – not the entire Holy Quran, only one drop of it – is sent to people with a proper language, then hearts will be attracted to it. We ourselves are experiencing and witnessing this today. Today, humanity needs the Holy Quran.
Tags: islam ، Quran ، Better life ، life ، shia muslim ، Holy Quran ،

Name: Al-Hasan ibn Ali ibn Abi Talib (a.s.)

Mother: Fatimah az-Zahra (a.s.), the daughter of the Holy Prophet (s.a.w.s.).

Kunniyat (Patronymic): Abu Muhammad
Laqab (Title): Al-Sibt al-Kabir (the elder grandson), Al-Mujtab
Birth: He was born in Madina in the middle of the month of Ramadhan in 3 A.H
Martyrdom: He died on the 28th of Safar in the year 50 A.H. He was buried in the graveyard of Baqi in Madina.
Tags: imam Hassan ، shia muslim ، islam ، History ، Muslim ، Better life ، Porn ،

A child runs away from his parents' home because of his ignorance. Soon after, he makes his way back into his parents' arms feeling their kindness, compassion and embrace; this is an example of repentance. When we return to the house of divine mercy, Allah the Exalted accepts us and welcomes us with His open arms. We should appreciate the value of this return, which naturally happens to devout people.
The tears alone, running down the faces while paying attention to God, are very precious and valuable. Our careless hearts make mistakes because we fall into temptation; the month of Ramadan has offered us the opportunity to cleanse ourselves. The process of purification is exceptionally valuable; tears may cleanse many of hearts, but they should be preserved. All great pains, deadly and dangerous diseases; arrogance, jealousy, treachery and decadence, which are great diseases, find the opportunity to cure themselves in the month of Ramadan.
Tags: islam ، Muslim ، the month of Ramadan ، Allah ، Better life ،

First and foremost, it is not necessary that the Holy Qur'an explains in detail all the concepts. Given that it actually deals with many things, so it does not get involved with the finer aspects and intricacies.
Yet, there is an affirmative reply to this question as well. Many verses of the Majestic Qur'an do prove the existence and also mention about the government of Hazrat al-Hujjat (a.t.f.s.). Eminent scholars have listed such verses in their books. Among them Allama al-Majlisi (r.a.) deserves special mention for having brought numerous such verses in his book "Behar al-Anwar", some of which are mentioned hereunder:
وَلَقَدْ كَتَبْنَا فِی الزَّبُورِ مِنْ بَعْدِ الذِّكْرِ أَنَّ الْأَرْضَ یَرِثُهَا عِبَادِیَ الصَّالِحُونَ
"And certainly We wrote in the Book after the reminder that (as for) the land, My righteous servants shall inherit it."(Surah al-Anbiya', 21:105)
Tags: imam Mahdi ، shia Muslim ، laedership ، Holy man ، islam ، Better life ، Quran ،

"Islam" means "submitting or surrendering one's will to the will of Allah".2 Mankind naturally submits to Allah; this instinct was born with him on the day of his creation. In reality, the entire universe – the stars, the planets, and the oceans – submits to the will of Allah through its ordered workings.
Modern science calls this phenomenon "the laws of nature," but these laws of nature, from an Islamic perspective, are not just any laws of nature but the laws of Allah for nature. Human beings, as creatures of Allah who are in need of Him throughout their entire lives, must also surrender their wills and desires to the will of the Almighty, the Creator.
Tags: Islam ، What is Islam ، Muslim ، life ، Better life ، iran ، Religion ،

The Qur'an says:
"O thou wrapped up in thy raiment! Keep vigil the night long, save a little — half of it, or a little less, or a little more, and recite the Qur'an in slow, measured tones. Soon shall we send down to thee a weighty Message. Truly, the vigil of the night is when impression is more keen and speech more certain." (73:1-6)
"And most certainly you are made to receive the Qur'an from the presence of One Who is the Wise and the Knowing." (27:6)
Tags: Quran ، islam ، better life ، Hot photo ، islamic life ، Muslim family ،

As a people awaiting the Imam Mahdi (the Savior), we should establish and build our lives directed upon the same path of our Imam (May hundreds of greetings and praise be upon him and may God hasten his return), today. Of course, we are too trivial to construct the same establishment that the divine friends of God made or will make, but we should work hard towards that path.
The Imam of our time, the Savior (May God hasten his return) is the manifestation of divine justice. We know that the most significant characteristic of Imam Mahdi (God's greetings and peace be upon him), which has been described in supplications and narrations is justice. "Through him, God will fill the earth with justice and fairness."
Tags: imam khamenei ، imam Mahdi ، work ، islamic Family ، Better Life ، Hot photo ،

Tags: Ashura ، shia muslim ، Photography ، image ، God ، Allah ، Better life ،


Al-Siraj The Lantern on the Path To Allah Almighty
Author(s): Husain ibn Ali ibn Sadiq al Bahrani
Translator(s): Yasin T. Al-Jibouri
Publisher(s): Ansariyan Publications - Qum
Category: Spirituality
Topic Tags: Siraj Irfan Sufism Sprituality
Featured Category: Spirituality



http://www.ghbook.ir
Tags: Download the Book ، islamic life ، Better life ، Psychology ، Science ، shia book ،

One can not begin from zero. It is the society with preparation and capability،which could accept the promised Mahdi.
( May our souls be devoted to him)
imam khamenei
Tags: souls ، imam mahdi ، islamic photo ، shia muslim ، iran ، Better life ، Hot web ،

One of the inward manners that one should abide by when reading the Glorious Qur'an is pondering over the meaning of the Qur'anic words and verses. When reading the Glorious Qur'an, one is recommended to think of the meaning and significance of what he reads. Allah, Most High, has revealed the Glorious Qur'an in order to be reflected upon and understood. In this connection, the Glorious Qur'an says:
[This is] a blessed Book which We have revealed to you, [O Muhammad], that they might reflect upon its verses and that those of understanding would be reminded.
(Sad 38:29)
Tags: Quran ، Pondering ، Meaning of the Qur'an ، book ، islamic books ، Muslim ، Better life ،

Nowadays in some places on the earth there are cruelties done to the oppressed people, for example the people of Palestine or Lebanon or Bahrain or Libya or Yemen etc. some of these nations are not Shia, the question is why we should help them? Does Islam have any order in this regard?
When we refer to the holy Quran we see that in some verses Allah talked about the cruelty and oppression.
In chapter Nisa verse 75 we read:
وَمَا لَكُمْ لاَ تُقَاتِلُونَ فِی سَبِیلِ اللّهِ وَالْمُسْتَضْعَفِینَ مِنَ الرِّجَالِ وَالنِّسَاء وَالْوِلْدَانِ الَّذِینَ یَقُولُونَ رَبَّنَا أَخْرِجْنَا مِنْ هَذِهِ الْقَرْیَةِ الظَّالِمِ أَهْلُهَا وَاجْعَل لَّنَا مِن لَّدُنكَ وَلِیًّا وَاجْعَل لَّنَا مِن لَّدُنكَ نَصِیرًا
"So why is it, that you do not fight in the way of Allah, and for the abased among men, women, and children who say: 'our lord, bring us out from this village whose people are oppressors, and give to us a guardian from you, and give to us a helper from you."...
Tags: Quran ، holy Quran ، islamic life ، Better life ، islamic web ، islamic TV ،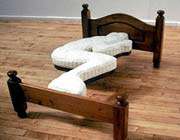 Note: Though healthy in general, left-side sleeping may not be suitable in some cases, like for those who have had heart troubles in the past.
People the world over love sleep dearly. There is no denying that it is one of life's sweetest pleasures.
It's also well known that sleep is important for one's overall health and well-being. You cannot expect to function normally and perform to the best of your potential without a good night's sleep.
Yes, you may be able to get by for a while, but you will likely be mentally disoriented and low on energy, until you are able to take it no more.
Lack of sleep also causes a horde of diseases and possibly fatal conditions. It is one of the biggest factors associated with heart disease.
Along with maintaining a proper sleep pattern, you can give your health a boost by sleeping in a certain position.
Research has shown that sleeping on the left side, as your grandmother may have often told you, is not merely an old wives' tale but has actual health benefits...
Tags: Muslim Family ، Better life ، islamic ، Religion ، sleep ، Islamic medicine ،

Tags: Quran ، image ، Eat and deink ، Islamic life ، better life ، Muslim ،

One of the many questions that have been asked is why does Islam make hijab mandatory for women? Islam has introduced hijab as part of the decency and modesty in interaction between members of the opposite sex. Verse 59 of chapter 33 of the holy Quran gives a very good reason; it says...
Tags: muslim ، Hijab in islam ، woman in islam ، shia ، love ، Better life ،