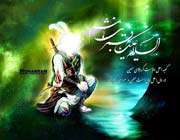 Imam Sadiq (A.S), the immaculate Imam and great scholar and unique figure of knowledge in the world, always appreciated his uncle, Hazrat Abbas (A.S). He always remembered him by praising and admiring him. He was highly grateful to his heroic stances and sacrifices he made during the event of Ashura. In what follows, some of Imam Sadiq's sayings about Hazrat Abbas also known as Ghamar-e-Bani Hashem are mentioned:
"My uncle, Abbas Ibn Ali (AS), had a strong faith and profound insight. He fought for the sake of God along with his brother, Imam Hussein (AS). He was able to successfully pass the test and was eventually martyred…"
Imam Sadiq (A.S) also names his uncle's greatest characteristics which is an astonishing one as follows:
B. Strong Faith
One of the distinctive characteristics of Hazrat Abbas (A.S) was his strong and firm faith. One of the sings of his strong faith was his contribution to fight in the way of God alongside his brother, Imam Hussein (A.S).
In fact, Imam Hussein was the Holy Prophet Muhammad's dear grandson; Hazrat Abbas accompanied his brother in order to win the almighty Allah's pleasure and satisfaction. In his boasting on the day of Ashura, he said he didn't have any material reason for his self-sacrifice which clearly represents his strong faith.
C. Jihad Alongside Imam Hussein (A.S)
Another virtue by which Imam Sadiq (AS) describes his uncle, Abbas (A.S), the hero of Karbala, was Jihad under the commandership of Lord of martyrs, grandson of Holy Prophet Muhammad (PBUH) and the head of youth in heaven. Fighting for the sake of God and his brother's goal was the greatest virtue of Hazrat Abulfazl (A.S); he successfully passed the test and on the day of Ashura, he acted so heroically that was unique and incomparable in the arena of braveness and courage.
Translated by: Sadroddin Musawi
---
Other links:
Hadhrat Abbas, one of the bravest of the Prophet's followers
The Killing of Al-Abbas and his Brothers
http://english.tebyan.net
Tags: Ashura ، Hazrat Abbas ، Imam Hussein ، shia ، muslim ، Karbala ،

In the name of God of Hussein
I had decided to write few lines about these days (Ashura)… but the grief stopped me…
I wanted to write about Hussein and his greatness … but tears stopped me…
I wanted to write about Abbas and his exceptional bravery, but my hands, being ashamed of his mutilated hands, stopped me…
How could one depict all this gracefulness?
How could one write about all that beauty?
How could one witness all that patience and resistance and keep calm?
This greatness is unbelievable… This resistance and sacrifice… This strong faith…
Only the greatness of Ashura can depict such a beautiful scene in only half a day.
The secret of Hussein's immortality is the goodness, patience, loyalty, and bravery in the desert of Karbala.
O, Zeinab!
What have you been through during these days?
How patient you were… What hardships you have endured … What sufferings have you borne…
Peace be upon your wounded body and your agonized heart…
How courageous you took care of what you had been trusted with!
How shining you were beneath those clouds of doubt and hesitation!
How brave you were in your eloquent remarks.
God bless you, you courageous woman of Karbala!
Greetings to you…
Say hello to the most purified people on my behalf…
Greetings to you, the little daughter of father! Greetings to the numerous injuries on your feet…
Greetings to you, Rogahye, for finding your father's beheaded body in two pieces; head on the sword, and body in the desert…
Greetings to you, Hussein! You, embodiment of love and freedom!
Greetings to you, Hussein! And to the purified souls of those who stood by you!
Greetings to you, Ali-Akbar! And to your steadfast youth hood!
Greetings to you, Ali Asghar! And to your thirst!
Greetings to you, Abulfazl, and to your exceptional bravery… Greetings to your loyalty, you great man!
Greetings to you, Zeinab!
Greeting to you… Greetings…
---
By: Rahimeh Sadat Zargar
Translated by: Sadroddin Musawi
---
Other links:
The Beauties of Ashura: The Most Beautiful Repent (Hur ibn Yazid Riyahi)
The Beauties of Ashura: The Most Beautiful Repent (Zuhayr ibn Ghin)
Hur ibn Yazid Riyahi, the Free Man of Karbala
Hazrat Abbas,the Standard Bearer of Hussein (A.S)
The Killing of Al-Abbas and his Brothers
http://english.tebyan.net
Tags: Ashura ، islam ، shia ، imam hussein ، who is hussein ،