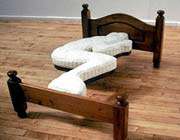 Note: Though healthy in general, left-side sleeping may not be suitable in some cases, like for those who have had heart troubles in the past.
People the world over love sleep dearly. There is no denying that it is one of life's sweetest pleasures.
It's also well known that sleep is important for one's overall health and well-being. You cannot expect to function normally and perform to the best of your potential without a good night's sleep.
Yes, you may be able to get by for a while, but you will likely be mentally disoriented and low on energy, until you are able to take it no more.
Lack of sleep also causes a horde of diseases and possibly fatal conditions. It is one of the biggest factors associated with heart disease.
Along with maintaining a proper sleep pattern, you can give your health a boost by sleeping in a certain position.
Research has shown that sleeping on the left side, as your grandmother may have often told you, is not merely an old wives' tale but has actual health benefits...
Tags: Muslim Family ، Better life ، islamic ، Religion ، sleep ، Islamic medicine ،