The Qur'an says:
"O thou wrapped up in thy raiment! Keep vigil the night long, save a little — half of it, or a little less, or a little more, and recite the Qur'an in slow, measured tones. Soon shall we send down to thee a weighty Message. Truly, the vigil of the night is when impression is more keen and speech more certain." (73:1-6)
"And most certainly you are made to receive the Qur'an from the presence of One Who is the Wise and the Knowing." (27:6)
Tags: Quran ، islam ، better life ، Hot photo ، islamic life ، Muslim family ،

Author(s): Ayatullah Ibrahim Amini
Translator(s): Dr. Sachedina


This book Contains these titles:
BOOK ID؛ point؛ Introduction؛ Chapter 1: The Beginning of the Belief in the Mahdi؛ Chapter 2: The Pseudo-Mahdis؛ Chapter 3: Mahdiism, the Jews, and the Iranians؛ Chapter 4: The Unseen World and the Imam of the Age؛ Chapter 5: Who Was the Imam after Hasan Al-'Askari?؛ Chapter 6: Can a Five Year Old Boy Become an Imam?؛ Chapter 7: Why Did Not the Occultation Become Complete Chapter 8: The Sunni Books؛ ....



http://www.ghbook.ir
Tags: book ، islamic book ، imam Mahdi ، Pdf ، Android ، Life ، Muslim Family ،

Today, it is quite disheartening to see that some parents rejoice when the newborn child is a male and show their dissatisfaction when the child is a female. But, this should not be the attitude. Islam does not condone this type of behavior, as such was the manner of the parents in the time of ignorance.
Children are gifts of Allah and there is no difference between male or female child but Islam said they should be righteous child Holy Prophet (pbuh) said:
الولد الصالح ریحانه من ریاحین الجنه
"A righteous child is a flower from flowers of heaven." (1)
He also said:
من سعاده الرجل الولد الصالحه
"Of the signs of prosperity, the righteous child is one." (2)
Therefore, the parents are responsible for their children and they should be careful how they treat and rear them.
Footnote:
1) The Book Wafi, Part 12, pages 196-197.
2) The Book Wafi, Part 12, pages 196-197.
http://www.welayatnet.com/en
Tags: Children ، Allah ، flower ، kids ، islam ، Quran ، Muslim Family ،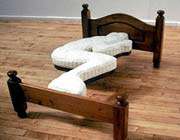 Note: Though healthy in general, left-side sleeping may not be suitable in some cases, like for those who have had heart troubles in the past.
People the world over love sleep dearly. There is no denying that it is one of life's sweetest pleasures.
It's also well known that sleep is important for one's overall health and well-being. You cannot expect to function normally and perform to the best of your potential without a good night's sleep.
Yes, you may be able to get by for a while, but you will likely be mentally disoriented and low on energy, until you are able to take it no more.
Lack of sleep also causes a horde of diseases and possibly fatal conditions. It is one of the biggest factors associated with heart disease.
Along with maintaining a proper sleep pattern, you can give your health a boost by sleeping in a certain position.
Research has shown that sleeping on the left side, as your grandmother may have often told you, is not merely an old wives' tale but has actual health benefits...
Tags: Muslim Family ، Better life ، islamic ، Religion ، sleep ، Islamic medicine ،