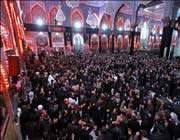 Millions of Shia Muslims in Iran and across the globe are holding mourning rituals in commemoration of the martyrdom anniversary of the third Shia Imam, Imam Hussein (PBUH).
Millions of black-clad mourners in Iran and many Muslim countries are holding mourning ceremonies to pay homage to Imam Hussein (PBUH), the grandson of Prophet Muhammad (PBUH), and to a number of his loyal companions who were brutally killed while fighting for justice in Karbala, Iraq, around 1,300 years ago.
Muslims in Iran have also been commemorating the occasion during the days leading up to Ashura, the tenth day of the first month of the lunar calendar year, Muharram.
Many devout Muslims across the world are also holding ceremonies to mourn the event which is one of the most important occasions on the Shia calendar.
Ashura, which falls on December 6 this year, marks the day when the forces of the second Umayyad caliph Yazid martyred Imam Hussein (PBUH) and 72 of his companions in Karbala.
Ashura
ceremonies symbolize the eternal and unwavering stance of truth against falsehood and the humanity's struggle against tyranny.
Iranian mourners usually congregate at mosques for lamenting, poetic recitations of the tragic event or Ta'zieh, performed in the memory of the Imam Hussein (PBUH)'s martyrdom.
Tags: Ashura ، shia muslim ، imam hussain ، iran ، religion ، japan ، islam ،